Meet our Board Members
Amanda J. Weichers, President & Founder
This foundation is created and inspired by my young son, Beau, who was born with some rare congenital brain abnormalities and suffers from epilepsy. At 17 months of age, Beau was diagnosed with Partial Agenesis of the Corpus Callosum, Epilepsy, and Global Developmental Delay. With the advancement of science in the last 10 years, we recently did the whole exome sequencing and we were able to find the genetic answer to Beau's health problems.  They found a mutation of gene ZBTB18.  It is very rare and his symptoms line up with those that have previously been studied.
Rather than sitting back and feeling helpless I wanted to create an organization that could help other children and families in similar situations. In 2010 I created Beau's Beautiful Blessings, Inc. to raise money for children in our community and surrounding communities that live every day with a congenital brain abnormality, epilepsy, brain injury or intellectual disability.
My educational background consists of a bachelors of science in nursing degree; a registered nurse in the State of Iowa but I have stepped away from nursing career and my husband and I run our own digital marketing/web development/social media management company called Weicks Media. My husband Andy and I love our time with our son Beau and our daughter Delaney. Our family activities involve hunting, walking, spending time outside on our acreage, fishing and just hanging out.
Beau is our inspiration and makes me work hard every day to educate and advocate for those with intellectual disabilities.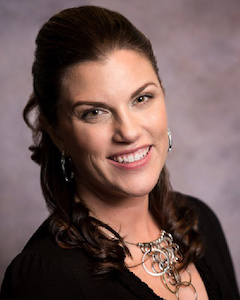 Sarah Albertson-Corkery
Sarah is married to Chris Corkery, and they live in Cedar Falls, Iowa. She grew up in Hudson, Iowa and attended Wartburg College. Sarah works in marketing at Veridian Credit Union. They have three children: Lucy age 12, Jude age 10 and Anna age 5.
Jude was diagnosed with an eye disorder called nystagmus at 6 months old. At 15 months he started having myoclonic seizures and was diagnosed with epilepsy. Jude is legally blind, seeing about 20/300 with his glasses on due to optic nerve atrophy. This means information from his eyes to his brain does not transmit well, but he does have functional vision. He outgrew his seizure disorder and is currently medication free. He has been tested for genetic disorders, but none have been found.
We believe strongly in inclusion where people of all abilities are able to be together. Jude attends Cedar Heights School with his sisters. He attends a traditional class with the help of his para educator. He loves trains, cars, his iPad and playing with his Nintendo Switch. We are fortunate that technology will allow Jude to navigate the world.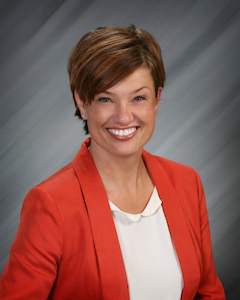 Kelli Ohde
Hi! I'm Kelli Ohde, and I am a pediatric physical therapist at Unity Point Prairie Parkway in Cedar Falls, Iowa. I am blessed to get to work with kids every day and I can honestly say that even after 10 years, I continue to love what I do! I went to Wartburg College for my undergrad and went on to study physical therapy at the University of Iowa…Go Hawks!!
I currently live in La Porte City and am blessed to be married to the love of my life, Heath! We have two amazing children, Laiken (5) and Callum (2). We love spending time with our children and our favorite family activities include bike rides, walks, frequent trips to the park, Hawkeye and UNI sports, and hanging out with family and friends! My passions include my faith, my family, my kids and kids in general, as well as exercise/sports. I am so excited to be a part of Beau's Beautiful Blessings, where I hope to help to raise money and awareness for children with special neurological challenges such as epilepsy, brain injuries/abnormalities, and more. I believe that this organization has already changed many lives and will continue to do so in the future! I am honored that I get to be a part of it!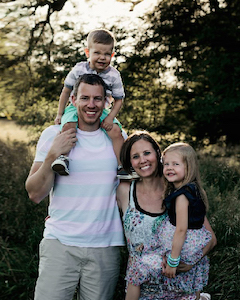 Amy Strempke
I'm Amy Strempke, and I am a Production Supervisor at John Deere. I was born and raised in Waterloo and recently moved to Waverly, Iowa. I graduated from the University of Northern Iowa in 2006, Hawkeye Community College in 2009 for CNC Machining and received my MBA from St. Ambrose in 2014. I got married in 2017 to my amazing husband, Ryan. We keep busy updating the acreage that we bought. I have 2 nephews, Dylan (12) and Liam (9) who I enjoy watching as they grow up into amazing little men!
I am excited to be part of Beau's Beautiful Blessings. I have known Beau since he was a baby. I got to babysit him a couples times, and also got to go on a couple trips with Beau, Amanda and Andy. Beau is such a fun kid to be around, if you have had a bad day, there is no doubt he will put a smile on your face. I am so proud to be a part of this organization. We have been able to help many families throughout the years and hope that we can continue to help out as many families in need as possible.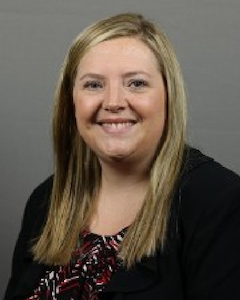 Carolyn Weichers
My name is Carolyn Weichers and I am honored to be a part of Beau's Beautiful Blessings. I am Beau's grandma. His daddy is my son, Andy. I am married to my husband, Steve, and we have three adult children and six grandchildren. I am a retired special needs teacher having taught special needs children with varying disabilities thirty-eight years in Waterloo. I taught elementary children most of that time and am well aware of the importance of education for children with special needs. I have provided good opportunities for many Waterloo children over the years and am excited about continuing that important work with Beau's Beautiful Blessings.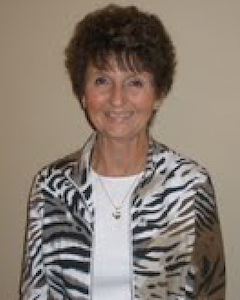 Michael Youngblut
Michael Youngblut is a partner with Coonrad & Youngblut, P.C., a civil litigation practice located in Hudson, Iowa. He obtained his bachelor's degree from the University of Iowa in 2004, and his Juris Doctorate from the University of Iowa College of Law in 2006.
Michael is anxiously awaiting the upcoming wedding to his sweetheart, Amela. He is the father of two: Caden, 17, and Brynn, 15; both of whom are very active in soccer.
As a long time friend of the Weichers family, Michael is thankful for the opportunity to contribute to Beau's Beautiful Blessings, and to help Amanda realize her vision that is certain to bring much awareness, assistance and joy to many.